The Legal History of Kansas Crossing: Kansas Penn Gaming I
In Part I of this series, I discussed the enactment of the Kansas Expanded Lottery Act (KELA) and the constitutional challenge brought against it. Even before the Kansas Supreme Court rebuffed that challenge, developers were submitting bids to build and operate one of the four KELA casinos. In the southeast gaming zone, Kansas Penn Gaming, a subsidiary of Penn National Gaming (Penn), was the sole applicant and was awarded the contract.
Yet, KPG never built a casino in southeast Kansas. What happened?
The Kansas Penn Gaming Proposal
Penn National Gaming had been interested in developing a casino in Kansas since at least the summer of 2005. In September of that year, representatives of Penn met with representatives of HV Properties, LLC (HV), a Kansas company that owned land near I-44 in Cherokee County, Kansas. In January 2006, Penn and HV signed a Letter of Intent specifying that Penn would lease the property, and both companies worked to legalize casino gaming in Kansas.
Once KELA was enacted, Penn formed Kansas Penn Gaming, LLC (KPG), to apply for a contract to develop and manage a casino in Cherokee County. Cherokee County voters approved the establishment of a casino there, and the Cherokee County Commission endorsed KPG for the project.
In August 2007, KPG formally submitted its application for the southeast gaming zone. Its proposal was called Hollywood Casino. It would be built on HV's property at the intersection of Highway 166 and Prairie Road in Cherokee County. KPG agreed to purchase that property for $2.5 million, to be followed by two contingent payments totaling $37.5 million, one due when its casino management contract was finalized, and the other due after Hollywood Casino opened to the public.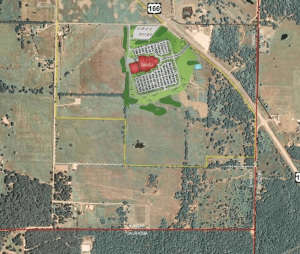 In its August 2007 application, KPG proposed spending $295 million to develop Hollywood Casino, which would feature a 250-room hotel, 1,200 slot machines, and 40 table games. But that extravagant proposal wouldn't last for long.
The Threat from Downstream Casino
In May 2007, the Quapaw Tribe of Oklahoma announced plans to build a $200 million casino in Ottawa County, Oklahoma, near the borders of Missouri and Kansas--less than two miles from Kansas Penn Gaming's proposed location. The casino, called Downstream Casino Resort, was planned to have more than 2,000 slot machines, 30 table games, and 15 poker tables.
To help visualize how close Downstream and KPG's casino would have been, below is what the area looks like today. KPG's casino would have been built just north of the center of the map. Downstream Casino is visible at the bottom center of the map, straddling the Kansas-Oklahoma border.
KPG immediately recognized the risks posed by the competing development, particularly given the Quapaw Tribe's advantaged tax status. As a Penn executive explained,
[T]he tribe has significant competitive advantages. We have to pay a corporate income tax, a federal income tax, whereas the tribes don't have to pay some of those taxes. The tribes can spend that extra money on promotions.
Nonetheless, Penn developed a three-fold response that it hoped would increase its chances of success: (1) Downgrade its proposal; (2) sue to block construction of Downstream; and (3) build a second casino in Sumner County, Kansas.
1. KPG's Downgraded Proposal
In December 2007, KPG began negotiating a management contract with the Kansas Lottery Commission. As part of those negotiations, KPG asked that it be allowed to phase in the $225 million minimum investment required by KELA. Rather than spending it all at once, KPG hoped to first spend $125 million, spending the remaining $100 million over the casino's first 12 years.
KPG's downgrade meant that, on opening day, Hollywood Casino would have only 900 slot machines, 30 table games, and no hotel.
After confirming with the Kansas Attorney General that such a phased-in investment would be legal under KELA, the Lottery Commission agreed to KPG's changes. In May 2008, KPG and the Kansas Lottery signed a management contract. However, to become binding, the contract had to be approved later by both the Lottery Gaming Facility Review Board and the Kansas Racing and Gaming Commission.
2. Sue:
Cherokee County v. Jewel
In February 2008, Cherokee County filed a lawsuit against the U.S. Department of the Interior (DOI), arguing that DOI had violated federal law in allowing the Quapaw Tribe to build Downstream. The County asked the U.S. District Court for the District of Columbia to order DOI "to stop all construction activity . . . and to prohibit gaming operations until [DOI] has complied with applicable law by, among other things, completing an environmental assessment[.]"
Penn agreed to reimburse Cherokee County for its legal expenses in its lawsuit against the DOI.
In July 2013, the district court dismissed the suit for lack of standing, finding that Cherokee County had "not shown a substantial probability that a judgment in its favor would redress its injuries."
3. The Southern Strategy: Hollywood Casino in Sumner County
Penn believed that, even if it couldn't stop Downstream Casino, it could still turn its investment in Kansas gambling into a profitable venture by combining its management of Hollywood Casino in Cherokee County with a similar effort in the south central gaming zone. Accordingly, in November 2007, Penn formed another subsidiary, Penn Sumner, LLC, and applied to develop and manage Hollywood Casino in Sumner County.
Unfortunately for Penn, the south central contract was awarded to Harrah's on August 22, 2008, spelling the end for Penn's "southern strategy."
(Harrah's later withdrew its proposal before it became effective, citing the deteriorating economy of late 2008.)
Kansas Penn Gaming Withdraws
At the same August 2008 meeting where it approved Harrah's Sumner County proposal, the Lottery Gaming Facility Review Board also approved Kansas Penn Gaming's Cherokee County proposal. However, KPG retained the right to withdraw its proposal until its contract was approved by the Kansas Racing and Gaming Commission.
On September 11, 2008, KPG did exactly that.
Naturally, the failure of this multi-million-dollar project led to multiple lawsuits, which I will summarize in the next post in this series.